I found this story and its pictures so interesting I gave the Carlow Pipers their own page.
In 1913 Brother McKenna of the Christian Brothers organised a troop of the Fianna Éireann Scouts in Carlow town. Later the same year he formed the Fianna Scouts Band. In 1914 there was a ceremony to mark the blessing and presentation of the Fianna Éireann flag by Fr. Burbage to the Band. The ceremony took place in the playground of the Christian Brothers Schools, College Street. The flag, known as "The Sunburst", had been designed and painted by Br. McKenna. The Scouts disbanded in 1916 due to the political situation in the country. The following year, Joseph McDarby and John Joe Haydon, two pipers in the Fianna Band, formed the Carlow Pipers' Band. Michael Hayden was Flagman and later Bass Drummer. The uniforms were made by Gleeson's Irish Costume Makers, Upper O'Connell Street, Dublin. Four sets of pipes, the Bass Drum and Fianna Flag were given to the new Band by the disbanded Fianna Band. These instruments and four more sets of pipes and side drums were supplied by McCullogh Bagpipe Makers, Dublin. The Bandroom was the Old Band room of the Carlow Workmens' Club, Brown Street, which was then known as the Sinn Féin Club. The Carlow I.R.A. are said to have held their meetings there. The Band was often harassed by the R.I.C. (Royal Irish Constabulary - the police force of the British administration in Ireland) who tried to capture the Flag. The Pipe Major, Joseph McDarby was arrested when the Band attended a proscribed meeting and spent a year in an English Prison. James Mooney also served a prison sentence for his I.R.A. activities.
Source: An article by Joseph Ellis in Carloviana, 1981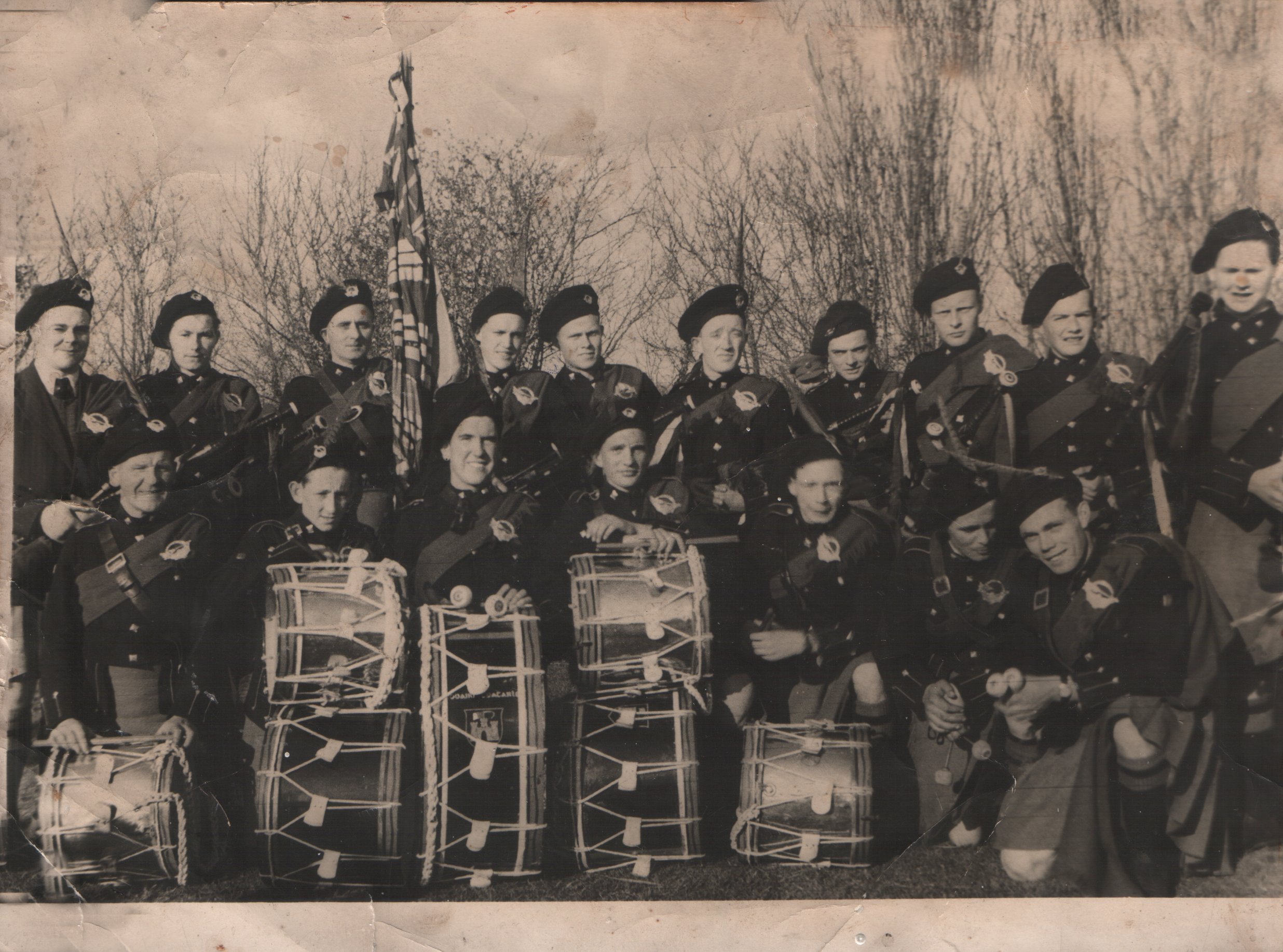 The pictures above and below were taken in the early 1940's.
This is the oldest known picture of the Carlow pipers 1916. Michael Hayden, Back second from right John Joe Haydon, Back second from left Joe McDarby, Front second from right.
About the above picture Margo Hearns Brown wrote the following:
" The Carlow Pipers Band at Killeshin on a May day parade. My father, Garry Hearns, is in front with the flag."
It was probably taken in the early 1940's. I don't know why my father is caring the flag furled, unless they were on their way to the parade starting point."